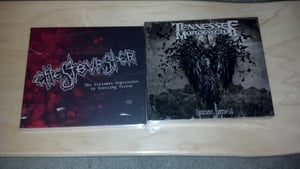 $

10.00
This is a short time exclusive offer!
We are combining NAIL004 and NAIL006.
Chestburster - The Ultimate Experience in Grueling Terror AND Tennessee Murder Club - Human Harvest CD/DVD.
These two bands couldn't be musically further apart, but they both perfectly showcase everything Nailjar Records is about: horror/gore.
Chestburster plays extremely raw, gritty, horror soaked grindcore.
TMC play old school death metal with a new school twist. Hands down, one of the best bands you will ever see live.
This is a limited time offer!
Buy grindcore - get deathmetal!
Buy deathmetal - get grindcore!