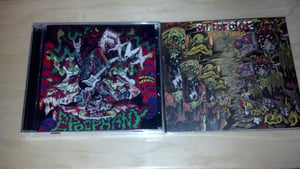 $

8.00
NAIL006+ NAIL007 in one exciting, limited time offer combo deal!
FXVX - Epoophany is completely insane fecal loving gore grind.
Siftercide - Self Titled is one hell of a chaotic-blistering mix of grindcore and crust punk.
These are the last two releases, and they are abrasive and punishing.
We are offering these releases together as a limited bundle.
DO NOT MISS OUT!