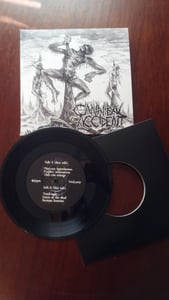 $

7.00
The first 7" on Nailjar Records.
Cannibal Accident unleash 6 new tracks.
Side A:
Orgiastic Hypothermia
Nuclear Semenstorm
Chili con Carnage
Side B:
Total End?
Dawn of the Dead
Rectum Loosener
This is a full gatefold package, polywrapped, lyrics inside, and lets not forget about the blistering crushing grindcore that only Cannibal Accident can deliver!
THESE ARE VERY LIMITED AND WILL NOT BE REPRESSED!